It is strange when you give something up you normally don't miss it. I gave up Facebook and Instagram up for Lent and I really haven't missed it. I'm not sure I have become that much more productive with my time, but I do feel like I'm not wasting away hours scrolling through FB/Instagram feed. I do miss seeing pictures and updates from my friends and family. I don't miss all the political/negative/commercial feed that sneaks into FB. So here is my first post on chattynatty/FB since February 14th. Hope you enjoy the following recap of my February month of reading. There were some really good books in this bunch!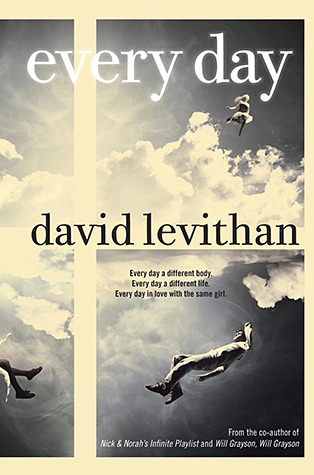 Every Day by David Levithan
I had not read anything by David prior to this read. I listened to this story on audio book and gave it 4 stars. It was a very intriguing story line. "A" changes bodies every day. "A" wakes up in a different person's life Every Day. When "A", who as a boy- Justin, meets Justin's girlfriend Rhiannon something changes. "A", despite changing bodies and people's lives daily is able to return to Rhinnaon's life. 1/2 way through the story line the story started to drag for me a bit. I felt like I was listening to the present day Bill Murray Groundhog's Day movie. The constant changing bodies and fight to return to Rhiannon and connect with her just drug on a bit. I loved the various themes David was able to bring to the readers attention throughout the story: depression/suicide, abusive relationships, different socioeconomic classes, gender and sexual identity preference, love, sex, and finding oneself. This book was made into a movie and released early 2018. I think it will make for an excellent rental.
The Best We Could Do by Thi Bui
I did a February reading challenge at my local library. One of the challenges was to break out of your norm and read a genre or type of book you normally don't or haven't. That genre/type of book would have to be graphic novel for me. My son and daughter really enjoy them, but I just never felt the need to pick one up. This challenge was a good one and I think the book I picked was a perfect introduction on how a picture plus words can really heighten the story. This graphic novel was a combo of memoir plus great illustrations. (I always felt like graphic novels screamed comic books and I'm just not into comic books- or at least I don't think I am). This story was Thi Bui's story, but also the story of her parents growing up in Vietnam. All three stories were honestly raw, and at times depressing. Thi's story is one of a child, who looks different, growing up in California after immigrating from Vietnam to Chicago to end point California. A few months ago I watched the Ken Burn's documentary on Vietnam. This book had a lot more feeling, emotion, and understanding for me due to viewing the Vietnam documentary. I can't fathom what a refuge/immigrant goes through. Can't imagine living daily with fear and the unknown. Excellent story, excellent illustrations, and so grateful for the library's challenge and pushing me to try something new.
The Music Shop by Rachel Joyce
This was my book club book for February. I loved it- 4 stars. First off- isn't the cover great! Eye catcher and love the contrasting colors, but the simplicity in the art work and title. The following line is a perfect representation of the great way Rachel tied music, art, feeling/emotion and words together...
pg 91- Jazz was about the space between notes. It was about what happened when you listened to the thing inside you, the gaps and the cracks. Because that was where life really happened when you were brave enough to free-fall.
Frank and Isle and the people who inhabit their lives lead the reader on a love story, but through the aid of another main character- MUSIC. I loved the way in which the music was almost a stand alone character in this book. Double bonus was finding a s spotify playlist with all of the songs that were highlighted in this story at the end of the book. This is my kind of playlist: From Sex Pistols to Hallelujah chorus. I liked how all the characters had eccentric personalities. I was surprised to hear not all the bookies enjoyed this book like I did. Reminds me how each and every one of us can get something different out of reading the same book. If you like music, relationships, and a love story I think you might find this book on your "to be read" list.
Side note- Frank's mom, Peg, drove me nuts- selfish mother!
Midnight at the Bright Ideas Bookstore by Matthew Sullivan
The title alone sounds like a "winner, winner, chicken dinner" of a chattynatty book. I gave this book 5 stars. It was such a good book I read it in 2 days. I also knew it was a 5 star book when I woke up thinking about it in the morning. Can't believe this is Matthew Sullivan's first book. I expected something very different- despite reading the inside cover- I thought it would be a different experience. Instead it was a story about a bookstore, quirky workers and inhabitants of the store (this was the expected story), murder and psychological thriller (the unexpected). I really don't want to give much of the story line up so I'm going to leave it at that. Totally great 2 day read!
The Trespasser by Tana French
This was the disappointment of my February reads. I listened to this book on audio, as I have with a few of her other books. I ended up giving it two stars. I just couldn't get into this book. I didn't feel invested in the story. It is a mystery and normally those will grab me or at least hold my interest. I felt I lost interest pretty quickly by the interrogation room scenes in the book (they drug on- did I say that already). Despite being a murder mystery I wasn't drawn into caring enough about the story line to even want to hear "who dun it". Her first book from the Dublin Murder Squad "In The Woods" I recommend- this one I'd pass on.
The Eyre Affair by Jasper Fforde
This is the first in the Thursday Next series. Isn't that a fabulous name for a leading lady, Thursday Next. She was a powerful protagonist. She is a special operative literary detective. I thought this story line would be right up my alley- solving literary mysteries. However, the fantasy got in the way for me and I just couldn't quite let my mind go to time travel and science fiction type settings. I first heard about this book/series on one of my favorite podcasts "What Should I Read Next". A mother/daughter team were discussing how they loved the fourth book in this series. I started with the first thinking it would help me understand the fourth, but now I'm not quite sure I'll get to the fourth. It just didn't pan out for me.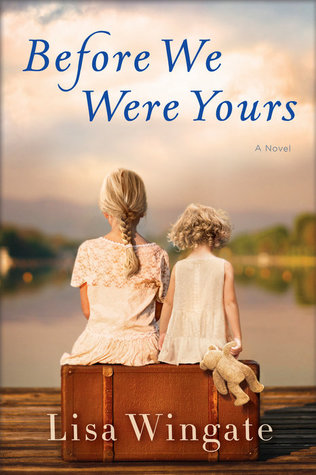 Before We Were Yours by Lisa Wingate
5 star audio book read to finish up the month. I loved listening to this story. I seem to enjoy when authors take turns going from present to past every other chapter. The two main characters are strong, powerful, protagonists/leading ladies. Avery is the present day twenty something trying to find her way in life. May is a an elderly lady Avery befriends at a nursing home. Their friendship stems from a picture May has on her bedroom dresser in her nursing home. The picture is of a couple, The lady in the picture resembles Avery's grandmother. Lisa does an amazing job tying not only these two ladies' stories together but those of other children who are highlighted in the "past" chapters. These children, unfortunately, represent a true time in American history where children were being stolen from their families (many of them lower socioeconomic) and being called "wards of the state" and orphaned/adopted/bought by rich Caucasians throughout the USA. It is a story of how children were seen as possessions and treated horrifically in some of these state orphanages. This book highlights the cruelty of real life Georgia Tann who directed a Memphis orphan/adoption organization.
It was a powerful story and I loved the added mystery behind May's picture and how it was tied to Avery. I loved the way the author perfectly described the setting of the book. I truly felt like I could visualize the backdrop of the story. The character development also was powerful and gained momentum as the book went a long. Amazing that these type of events happened in US history- reminds me of our current human trafficking issue that the US is dealing with- many of those involved are children. Historical fiction has a true power of awakening the reader's mind and heart to the horrors some people experience in their lives.