I love OCTOBER! I love OCTOBER for a lot of reasons: fall decor, my birthday, football games, falling leaves, crisp mornings with sunny afternoons, fire pits when it feels really good to be next to a fire, and of course where there is a fire there is a s'more. Lastly, some great READS.
Here they are in no particular order...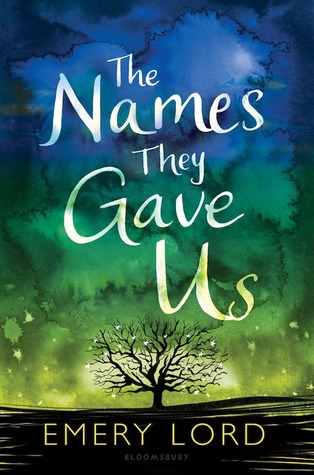 The Names They Gave Us by Emery Lord
Sometimes I need a break from the heavy and go towards some good YA fiction. I read two back to back this month and both were entertaining and didn't disappoint. However, this one in the beginning had me a little worried. It started a little slow and the main character Lucy, a preacher's daughter, was acting like a typical preacher's daughter (the good kind not the Footloose kind of Preacher's daughter). There were heavy references to God, her religion and she seemed pretty judgmental. Then the book changed and morphed into a great "summer camp" story. Lucy's mother has cancer, again- no I didn't just ruin the book- you discover it early. While her mom is dealing with having to a go through chemo treatment she pushes her daughter to try something new this summer. Instead of being a camp counselor at their church camp Holyoke. Her mother recommends she work as a camp counselor at the "hippie camp" a mile from their church camp. This experience is life changing and I can't believe how I really changed my thoughts/opinion of this book and story line as I read on. I went from being worried it was going to be overly "churchy" to tears dribbling out my eyes at the end and wanting more- wanting to know the rest of Lucy's story. Good YA read and I appreciated the author's ability to weave religion/faith into struggling with life decisions and growing up as a teenager.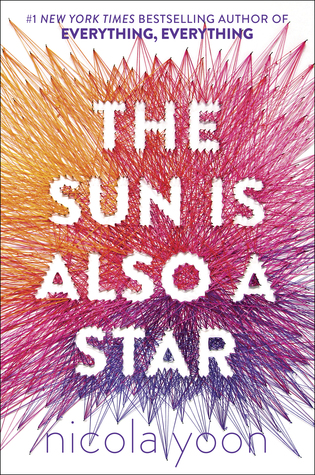 The Sun is Also a Star by Nicola Yoon
Last March I read "Everything is Everything" by Nicola Yoon. I liked it so much I picked it for my month of hosting the Bookies. Then one of the Bookies read this book afterward and said she thought it was better. As mentioned above I was needing a little "break" from the serious and so started my two YA read at the end of the month with this one. I really liked it. Not sure if I liked it more than "Everything is Everything", but thought the book was very poignant and well written. It flows well and I really believed the story that unfolded. One of my friends recently stated she struggled to believe the love story that unfolds, but for some reason I didn't. I need to believe love stories can unfold in this way- it makes me feel that the world is still OK despite the world's craziness. I also was constantly feeling like Nicola's descriptive writing was spot on and I could visualize scenes based on her descriptive writing. I liked the concept of "what if" and the story line reminded me of that "Sliding Doors" movie Gwyneth Paltrow starred in.
By the way when I googled "Sliding Doors" (wanted to make sure I had the name of the movie correct) the following google phrase came up in search box- Gwyneth Paltrow sliding glass doors haircut.... So I'm trying to grow my hair out right now and this picture made me miss my short hair-
OK back to reality and the blog post :)
The Girl with the Lower Back Tattoo by Amy Schumer
Holy Macaroni! This book was HILARIOUS! It was RAUNCHY! Total R Rated listening status- aka never let your kid hear you listen to this book. It was SAD (at times)! It was REAL! The subject material was what a lot of comedians bring to the table: heartache, honesty, some messed up family stuff, and surprisingly some major characteristics of introverts (despite being able to get paid mega money to stand on stage in front of many people and make them laugh). Amy Schumer made me laugh out loud while walking into work- yep people thought I was walking to the psych unit at work due to my outbursts- I'm pretty sure. Her discussion of topics varied anywhere from: masturbation, dad shitting his pants at "Adventureland" (nope not the one in Iowa- the one in NY), her dysfunctional relationship with her mother, gun violence, and rape. Some heavy and very personal topics, yet I was laughing throughout most of the book- not during the gun violence chapter- that was probably next to the rape chapter the toughest for me to listen to as this book was 4 years old and the Las Vegas shooting had just occurred not a month earlier- the USA has learned nothing!!! about gun violence).
I love audiobooks that are read by the author. This was a GREAT one! Again don't recommend listening to it out loud as it may be offensive to young and old, but if you are looking for some entertainment with a dose of honesty about the problems in our great nation I recommend it.
Farewell to Arms by Ernest Hemingway
This was the Bookie's read for October. I was very disappointed. I normally really appreciate Hemingway's story line and clean/crisp writing. I felt this story was very sophomoric. It was short and to the point, but it lacked some depth and the one main female character I really couldn't stomach as I felt she was a immature, selfish and irritatingly weak female- also a nurse which made me mad as I felt she didn't have the "gumption" I think of when I envision nurses involved with war. I went into reading this book thinking I would love it as I fondly remember watching "In Love and War" with my at the time boyfriend, now husband. Sandra Bullock and Chris O'Donell were supposed to portray the main characters of Hemingway during his stent as an ambulance driver in WWI- which "Farewell to Arms" is also based on-Hemingway's experience during the war.
The movie was totally different than the book and I think I remembered the "romantic" notions from the movie and then pushed them onto the reading of this Hemingway story and as normally happens I got disappointed. Note to self- book and movie don't equal the same equation so treat each as a separate entity. I like to think in this one instance the movie is actually more reflective of real life- the movie was written by Villard, Hemingway's hospital room roommate, during the "war to end all wars". "Farewell to Arms" was a book about an ambulance driver who falls in love with a nurse and his experience with rehab from war wounds, love interest, love of alcohol, return to the "front", escape from assassination by Italian army, and of course the end/demise of his relationship is the main content/story line. I respect Hemingway's writing so much- his ability to write so cleanly and succinctly is known world wide. He is famous ( or so urban legend says) for his 6 word memoir... "For sale, Baby shoes, Never worn." . This book didn't have that panache.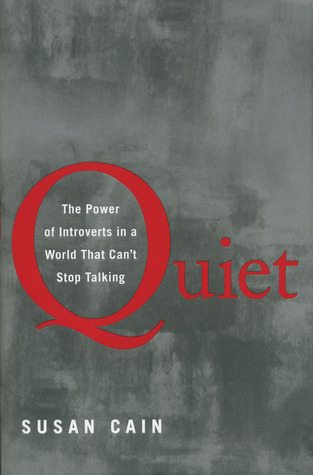 Quiet: The Power of Introverts in a World That Can't Stop Talking by Susan Cain
This was my other audiobook for October. It has been on my "TBR" for a long time. I am an extrovert and my husband is an introvert I thought this was a needed read. He thought it would be biased towards introverts and all about justifying who introverts are. He doesn't need justification so I'm not sure he'll read this one :).
The author Susan Cain calls herself a pseudo extrovert- so really an introvert. I thought it was a well written nonfiction read that brings out many points of interest in regard to what being labeled an introvert can really mean and do to a person. I think the point I found most interesting in this book was when she started talking about highly reactive people- HRP (otherwise known as highly sensitive people) and how many introverts also are HRP. This is where I was dumbfounded for I'm the HRP in our family/relationship, not my introvert, accountant hubby. He is logical and not HRP. Good listen/read. Again I think it shows what labeling people can do long term. I was always called "the sensitive/demanding" child and until about a year ago I struggled with that label and thought it made me a "weak/bad" person. Come to find out it is what makes me pretty good at a lot of things! So lets stop labeling and start instead to understand each other and our personalities and work on maximizing our personalities to make us the best people we can be and henceforth do the most good!
Little Fires Everywhere by Celeste Ng
She had me at the title and the book cover! Smart title and marketing! I also was "had" when I discovered this Celeste Ng was the same one that wrote "Everything I never told you"- read it last year. That was a great story!
"Little Fires Everywhere" was my book of the month club pick and I wasn't disappointed. It was chalk full of interesting characters, multiple story lines, that all end up on one road. I also like flash back books and this one started really at the end and went back to the beginning and story line crosses over many years. Adoption, surrogacy, teenage lust/love, artists, disowning family members, were just a few of the topics covered in this fiction story. I liked it a lot, not as much as "Everything I never told you.", but well worth a reader's time. Thanks Celeste Ng for writing a story line that lived up to the beautiful cover and smart title.
The Power of Meaning: Crafting a Life That Matters by Emily Esfahani Smith
This was one of my "blogging for books" reviews. I already posted an earlier review of this book as Blogging for Books likes the reader to post a review after reading it. Here is a brief review of the previous post on this book.
Emily Esfahani Smith has put together a great read about finding purpose or meaning in your life. I think no better than the present to be reading this book as I've struggled recently with answering some of life's tough questions: am I making a difference in my patients lives? Am I having a positive impact on my children as their mom? What do I need to be doing to figure out what my true purpose is on this earth? So when I saw this book as an option I jumped at the chance to review it.
I could tell this book was a good one because since I own it I can write in it and underlie sentences or phrases that catch my eye during reading. This book has a lot of chattynatty script now written in it- a sign of a good book.
Overall I gave this book four stars. Although nonfiction Emily does a great job of weaving real life stories throughout the book and the weaving of educational content on finding purpose/meaning along with these personal stories really makes the book flow quite easily. It was a fast read and smooth going. The only reason I couldn't give it a full 5 stars was there was one part of the book that just didn't do anything for me. I think this is just because of the content and the type of gal I am. That part was chapter 5 on Transcendence. This however, was just one of the many chapters and I got so much out of the rest of the book that I still would highly recommend this book to anyone who is like me that is always asking the What if's? or the Why's? or the How come's?
If you are at all an avid reader and enjoy sharing reviews on books via social media/blog posts I'd highly recommend you look into http://www.bloggingforbooks.com/.
That wraps up one of my favorite months of the year. To date I've read 65 out of 70 books for my 2017 reading challenge. I'm hoping to bypass that goal of 70 within the month of November.