Enjoying a beautiful Indian Summer day today and catching up on some "to do's" before kids get done with school. It always seems funny to me when I go to write my monthly "reading posts" how I so easily forget those books I've read. Glad I'm keeping track on Goodreads. It helps me avoid rereading books I've already read. I know it may sound silly to some, but just the other day I picked up an Anne Lamott book from the library and got home and just had this sense that I had already read it. I checked my goodreads list and sure enough I read it last year. So here is a recap of what I read/listened to in August. It was a somewhat depressing/sad month of stories, which is OK occasionally, but I needed a break after August to return to some good old fiction, comedy and mystery for September- can't wait to tell you about my favorite mystery writer's new book next month.
In no particular order... August Reads:
The Tea Girl of Hummingbird Lane by Lisa See
One of my audibooks for August. A friend had given this four stars on her goodreads list and she likes historical fiction as I do and so I took her praise of the book and checked it out. It was an interesting story that went from current day to recent past. It is the story of really two girls. One grows to become a woman during the story and the other a teenager. Their connection is they are mother and daughter.

The way Lisa See, author, can weave the story along with geography and history lesson is amazing in this book. She through Li-yan's story (main character) introduces the Akha, a Chinese ethnic minority, and educates on tea production at the same time. Li-yan's family comes from the Akha and they are tea farmers. Both of these subjects I knew little to nothing about. Tea production fascinating! Li-yan's character development in this story is perfect. She goes from girl, to young women, to mother, to business women, to constant searcher of her child she gave up for adoption. Her daughter ends up in California and you have to read/listen to the book to find out how and if the two find each other.

My only complaint with the book was that I think more time could have been focused on the last 1/3 of the book. Parts in the middle were a little slow going. The reason this book depressed me some was the way in which Li-yan's Akha ethnicity put her at extreme disadvantages at times due to their traditions, customs, beliefs. These beliefs especially affected the women of the Akha group. For instance if you have twins that is forbidden in their culture. The babies are killed right after birth and the mother and father are banned from the community. Can you imagine?

I also felt sadness about the whole unknown plight of a mother trying to find her daughter. Can't imagine what families go through that adopt- on one hand the adoptive parents wondering if the birth parent(s) will ever return to find the child or what if their child wants to look for her/his birth parent(s). The other side of the coin the birth parent(s) who search trying to find their biological children and the heartache that must cause. It was a good book, but not a "real feel good" one.
Goodbye, Vitamin by Rachel Khong
This was a my book of the month club pick. It was probably my least favorite book of the month. I thought the writing was choppy and the story didn't flow the best for me. I wanted more development with certain relationships in the book, and that didn't occur so that disappointed me. The main characters are a daughter and her father who has Alzheimer's disease. Her father is a history professor who is no longer teaching due to his Alzheimer's. His daughter comes home to help take care of him, and this occurs after her major break up with boyfriend (can't remember- maybe they were even engaged).

Alzheimer's isn't fun to live with and I found it isn't always fun to read about. The book just didn't sit well with me. I liked the main character- the daughter- but thought that her character could have been better shared/explored during the progression of the book. There were some funny parts to this story, but the Alzheimer's and what it did to the father was hard to read.
The Mole People, Life in the Tunnels Beneath New York City by Jennifer Toth
Our book club book for August. It was a fascinating read. A story I knew nothing about. This nonfiction story is about people who chose to live under the streets of New York City. Some are addicted to alcohol and drugs, others are mentally ill, and some are professionals with college degrees (even Master's Degrees) that have chosen to make their home there. The chapters highlighted different people who live in these tunnels. Jennifer Toth went down into these tunnels sometimes alone to document with her pen what these people's stories were. Again- I think you can see why I'm calling August my month of depressing reads.... These stories were hard to fathom. The pain and suffering some of the people endured, including the author was hard to swallow. The environment some of the Mole People lived in sounded beyond disgusting, unsanitary, and horrific. Other communities and groups portrayed in the book seemed pretty functional. However, some of these groups reminded me of cults or communes. There was something not quite right with these communities.
This was a great book for book club as it stimulated a lot of great discussion. One of the topics brought up was whether this book was really accurate. One of our esteemed members had read up on the author and the book prior to reading it. She found some thought Jennifer had elaborated or maybe even falsified the information in this book. It sounded like that information tainted the reading of the book for her. It would be hard to read nonfiction book if biased with "this might not be the whole truth" before even breaking the cover. I'm glad I didn't have that info prior to reading the book, because I overall enjoyed (if that can be used to describe reading about people living in horrible situations and environments) the book. A great book club pick for great/fascinating discussion.
At Home in the World by Tsh Oxenreider
Tsh, her three kids under age 10 and her husband decide to pack up "home" and travel for 9 months. They start in China (the smallest "home" they will stay in during the 9 months) then travel to Thailand, followed by Australia, Sri Lanka, Uganda, France and Croatia. Their story is one I think so many Americans need to listen to and possibly even experience. The experience of packing up your personal belongings, deciding what you "need" to get you through the next 9 months, and then traveling to different countries, experiencing different cultures, all the while learning about your family and realizing that "at home" is really where your loved ones are. I listened to this book on audio and really enjoyed it. I look forward to reading other books by Tsh.
This Is How It Always Is by Laurie Frankel
I had heard about this book on the "What Should I Read Next" Podcast that Anne Bogel produces. I heard about it not once, but three times on different Podcasts as a book people really enjoyed or were currently reading. I put it on my Goodreads "to read" list and found it awaiting me a the library one day last month. I picked it up without even reminding myself what the story line was by reading the inside cover. I was going in a little blind.

I was surprised by the story line and it was another tough read for the subject content. A couple meet and marry and end up having four boys. The mom gets pregnant a fifth time and they (her and her husband) do anything they can or are told to do to ensure that the fifth child is a girl (have your bed facing south and other "old wives tale" suggestions). Well the fifth child comes out and it is a boy... or is it. Claude, the fifth son, realizes he wants to be a princess when he grows up pretty early into his childhood. Yep Gender Dysphoria is the leading "lady" of this story. The story helped bring to light what many children and parents must go through when trying to figure out how to handle gender dysphoria. Very well written and the characters work so well together to make this story great, it is just a tough and at times sad/painful read. The world can be really tough out there if you don't follow the norm.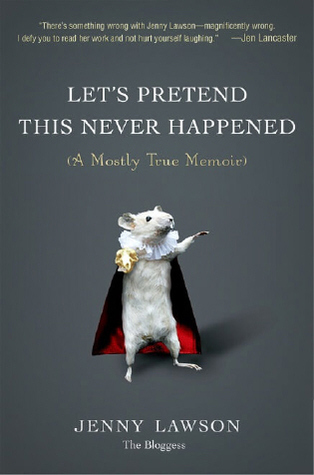 Let's Pretend This Never Happened (A Mostly True Memoir) by Jenny Lawson
Again a bookie (made up word for one my book club buddies) gave this five stars on goodreads. So I had to find out what it was about. It was another audiobook for the month and I really enjoyed it. Jenny Lawson started her writing career via a blog- The Bloggess. http://thebloggess.com/
This book will just make you laugh, or at least it did me- several times out loud as I was walking into work or out to my car after work. I'm sure I got some raised eyebrows for the unfiltered chattynatty laugh.
How to explain this book? Well it isn't a book I would listen out loud to with children around. Her language is pretty crude at times and the subject matter is pretty crazy too. This book cracked me up. Who can write about her obsession with taxi-dermied, costumed animals (hence the cover of her book). The book made me laugh/ she made me laugh- which I needed after some of the other story lines I read this past month. Sometimes though the laughter couldn't cover the brutal truth. Jenny Lawson has mental illness (anxiety, depression, history of suicidal ideation to name a few). She makes no excuses about this in the book, but there are times when she is describing certain scenarios that even despite the humor you want to cry for her pain with being her.
I loved listening to this book on audio. I'm currently listening to her second book Furiously Happy and enjoying it even more!
If you need a little laughter in your life while staying grounded with tough subject matter like sneaking a dead Cuban alligator on a plane, then this book is for you.
100 Day s of Real Food by Lisa Leake
Recommended read by a good friend. I actually did read through the whole book. It wasn't your typical cook book as it has several chapters in the beginning of the book that focus on what healthy/real food eating is comprised of and how to make the change. There were some pretty good recipes in it too.
Well that is all my book loving friends. August was a productive reading/listening month full of some tough subjects: Alzheimer's, gender dysphoria, Adoption, mental illness. Moving onto, hopefully, some calmer waters in September reading.