September was a pretty heavy reading month for me. It, as you will see, was pretty diverse in genres. Some of these books I already have posted on as I was sent them to review by different publishers. I will just give a brief recap here- if you want to read more look to older posts. As always, love to hear what you think- maybe you have read some of these...
I Found You by Lisa Jewell
5 stars on this book. Lisa Jewell is a new found author, to me, that I really enjoy! Her books stay with me throughout the day when reading them. In this book Alice finds a man on the beach who doesn't know who he is or what he's doing there. The story unfolds from this initial encounter. However, it is not just Alice's story or the missing man, but Lily's story too. Lily's husband is missing. They have been married for two weeks and he doesn't come home one night from work. Yep, You guessed it their stories are connected. Lisa does an amazing job unfolding the story within a story. Great Read!
The Brave Art of Motherhood: Fight Fear, Gain Confidence, and Find Yourself Again
by Rachel Marie Martin
4 stars. I was sent this ARC (Advanced Reader Copy) to review in prep for it's release. I was not disappointed and I took several things away from this read that I think will potentially change my life. Go here to read the full review. http://imchattynatty.blogspot.com/2018/09/the-brave-art-of-motherhood.html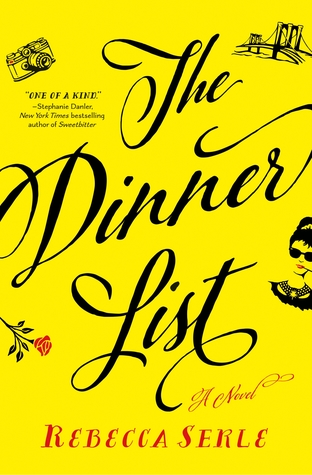 The Dinner List by Rebecca Serle
5 dinner guest for Sabrina's birthday dinner. Her friend Jessica has arranged for the 5 guests, including herself, to be at the restaurant upon Sabrina's entrance. A little fantasy plays into this story as some of the guests are deceased, ie Audrey Hepburn. The guests all bring a purpose to Sabrina's life, 30 year old, story. The chapters flipped time periods every other. One was written as present day,/dinner time with actual time as the title of the chapter. The following chapter was written from Sabrina's past. Back and forth patterns creates a story of life, love, disappointment, friendship and family. The author keeps you guessing what the purpose of the guest are. I liked the twist that came halfway through the story. Despite the back and forth time changes I felt the flow of the book was smooth. 4 stars.
Watch Me Disappear by Janelle Brown
Audiobook- 2 stars. Not one of my favorites. I liked the premise- mom goes missing off Desloate Trail in CA. Husband to Billy, missing mom, is ready to move on after Billy has been missing for a year. He's bitter that he's been left by her and he is failing at keeping things together: finances, house and parenting their teenage daughter Olive. Olive meanwhile, a junior in high school, is having her own struggles- figuring out where she belongs, friend issues, and the biggest issue is she thinks her mom is still alive. Sounds good right? Writing and where the story line goes and the way it unfolds just didn't intrigue me.
The Hidden Staircase by Carolyn Keene
I read this book with my daughter. Its funny how when you get old a book you loved as a kid just doesn't seem to have the same merit as an adult. My daughter liked it. I felt the wording was very antiquated and made me nostalgic for the nights growing up my dad would read to me and my sister before bedtime. 3 stars for the adult- think my daughter would give it 4 stars.
Thirsty for More: Discovering God's Unexpected Blessings in a Desert Season by Allison Allen
This was another book that was sent to me by a publisher to review. I think I pinned to much hope in this book before even opening the first few pages. I've been struggling a little with my faith of late- some big questions like "God, why do you let terrible things happen? Why is the USA so divided and showing little respect, love, kindness to each other? Why has a sermon not spoken to me in months?" You get the picture. Well this book didn't help me out. If you want to see the full review. Here is the previous post: http://imchattynatty.blogspot.com/2018/09/thirsty-for-more-left-me-thirsty.html
2 stars and disappointed.
Love & Other Train Wrecks by Leah Konen
I had been in a little reading slump with my nonfiction book prior to this one and really was needing to enliven my reading life. So when I'm in the "reading dumps" I normally go to YA. This book did the trick. It stars a girl and a boy who meet on a train. From that meeting their story unfolds and I was impressed with the twist at the end. Can't say much more- I'd give the story away. If you are looking for a book to enliven your reading life this one's a keeper. 5 stars.
Silencing Insecurity: Believing God's Truth About You by Donna Gibbs
Another book sent to me to review. You'll find the previous post here: http://imchattynatty.blogspot.com/2018/09/silencing-insecirty-by-donna-gibbs.html
3.5 stars- couldn't give it a higher star rating because I felt it was written to such a limited audience- Christian women. Think this topic infiltrates many women and men's lives and think if it had been written for broader audience then I would have enjoyed it more.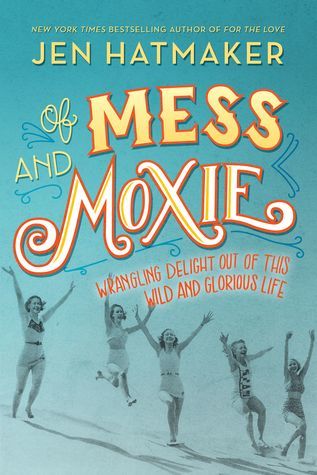 Of Mess and Moxie by Jen Hatmaker
Audiobook 4 stars. Great on audio- read by Jen, herself. This is the second book I've read by her and I enjoyed this one so much. This one spoke to me and where I'm at in my life. She writes with such an authentic voice it is truly believable and genuine. Some of the book I was laughing out loud and some of the book I wanted to cry. Her chapters are diverse and cover many facets of a woman's life.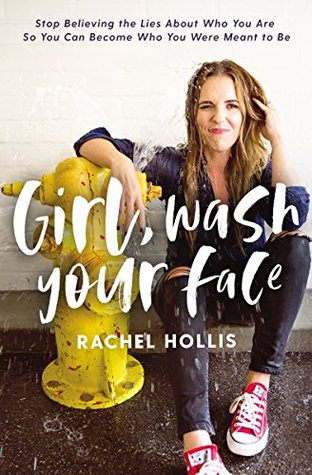 Girl, Wash your Face: Stop Believing the Lies about Who You are so You can Become Who You Were Meant to Be by Rachel Hollis
5 stars. Jen Hatmaker has been doing a series on her podcast "For the Love" which is currently "For the Love of Books". At the end of the podcast she asks the author/guest "What book is saving your life right now?"- Well this is the book that is saving my life right now. I can't stop thinking about or talking about this book. I've become a Rachel Hollis fan over a two day course- which took me to finish this book. I've signed up for her "last 90 days challenge"- which I'll post on later. What made this book work for me is how darn honest she was in the writing and telling of her story. The chapters are titled as "The Lie..." with a statement following that she has told her self. For instance, "The Lie: I'm Bad at Sex" or "The Lie: I don't know how to be a mom." She then debunks this "lie" and I felt like a lot of her "lies" were my "lies" also. She's got some great ideas on how to move forward in life, not forgetting yesterday, but not dwelling on it and looking to what is your best today and tomorrow. This book seriously built a fire under my butt to make some changes that I've been wanting and dreaming about making. Here are some of my favorite quotes from the book.
xii "Your life is up to you."
xvii " It's a life long journey, but I rest in the knowledge that every day I'm learning and growing, which lets me feel at peace with myself."
pg 8 "You become who you surround yourself with." - only taken me about 42 years to get this.
pg 113 "I think embracing the chaos might be the path to finding peace."
pg 146 " Someone else's opinion of you is none of your business."
pg 158 " I don't believe everything happens for a specific reason, but I do believe it's possible to find purpose- even in the absence of explanation."
You guys it is just such GOOD stuff!
Happy Reading Friends.