The following are what I read or listened to in September. These days I'm averaging about 1-2 audiobooks per month and then 2-3 books of reading per month- monthly average about 5 reads. If I could change one thing in my reading life it would be to be reading more. One thought is all the time I waste on social media and email daily. So I'm going to try a new daily time limit on both "tempters" per day. It is the middle of October so we will see how many books I can read by the end of the year However, I also think my ability to read or listen to more books also correlates with how great the "reads" are. September I read some books with pretty heavy subject matter and that tends to weigh me down in my speed of reading. I also, recognize that my "likability" for a certain book can also increase the speed of reading. So books I love I read quick, books I am not really digging I tend to get in a "holding pattern" and can't quite get it done as fast as I'd like. So with 2 and 1/2 months left in my 2017 reading year I plan to try and be more thoughtful in the books I invite into my life in hopes that I will become a more productive reader. If anyone has any great suggestions on how to become a more productive reader let me know. Happy Reading !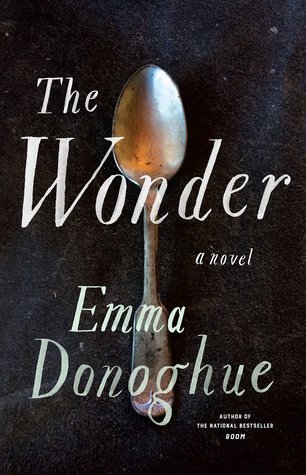 The Wonder by Emma Donoghue
One of my audiobooks for September. It was just OK. I liked the premise which was an 11 year old girl, Anna O'Donell, has stopped eating, and only takes water, but lives on. "How does she survive on water alone" the main plot line. Due to the amazing feat of the fasting of this girl the local catholic church wants to document this miracle and so the community brings in a nurse and nun from outside the village to observe her fasting and document that the child is truly involved in a miracle- subsiding by faith alone. The book takes place in Ireland, and the nurse is a former student of the one and only Florence Nightingale. I think I was more intrigued with the nurse's story more then the child's story throughout the book. This book could read like a mystery: What is keeping this girl alive if she isn't taking any sustenance? Why did this girl start fasting? What is the back story with the girl's family? and Lastly, how does the nurse and her back story play into the book? I didn't realize until after listening to the book that this author wrote the nationally acclaimed, and made into a movie, "The Room". Can see some cross over in psychology topics from the two stories. Wonder if when writing this type of story the author experiences any depression, anxiety, stress over the character's duress endured?
The Boys in the Boat by Daniel James Brown
This was our book club read for the month of September. I have had it on my "to read" list for several years and was happy to finally get pushed to read it. It is an amazing story of 9 Americans who persevered at collegiate level crew and then went onto represent the USA in the 1936 Berlin Olympics. Things I liked about this book were the characters: Joe Rantz (came from nothing, bad family situation throughout childhood and even through adulthood, amazing girlfriend/wife who helps him accomplish much, and amazing strength to overcome physical/emotional odds), Al Ubrickson (coach of the Washington crew team, and 1936 USA crew team, serious, stern, non-emotional, amazing leader while man of few words), and George Pocock (builder of the boats, talented craftsman, mentor to many especially Joe Rantz, silent supporter). I also, of course, loved the way Daniel wove the history of pre-WWII stories into the story of these 9 men. What I struggled with in the book was the minutiae, the details, the over explanation of some of the rowing techniques and at times the book just seemed to slog along. I'm glad I read it and it was an extremely good reminder of what one can do mentally to overcome physical, financial, and social roadblocks in life. There is a YA version of this book and think it would be very motivational for a junior high aged student to read.


Furiously Happy by Jenny Lawson
Last month I listened to "Let's Pretend This Never Happened" and loved it. Well no disappointment again with this book on audio. Jenny reads the story herself, which I think makes this audiobook even more enjoyable, and believable. In "Let's Pretend This Never Happened" Jenny tells some pretty funny and not always funny stories about her life, her family, her marriage, etc. This book takes it a step further and the elephant in the room is really let out- Jenny's battle with mental illness. I know how can a book about anxiety and depression be so enjoyable? Well that's where Jenny's talent to tell it like it is and not get overly morose comes in to save the day. This is a five star book and I encourage anyone to go out and get this book. All of us know someone or maybe personally have struggled with anxiety and depression and this book allows us to talk about and explore the mental illness struggle with open eyes and some humor. Please, read this book or better yet listen to it!
Lilac Girls by Martha Hall Kelly
The cover had me immediately. I knew I would read this book, just by the looking at the cover. I know maybe not the most intellectual way to decide to read a book, but most author's and editors/publishers know that the cover can sometimes make or break the book. Well this cover sells the book very well. However, I was somewhat disappointed by how the cover made me think what I was getting into was a WWII story that would be informative, but yet a little dreamlike, filled by of course horrors, but more so by "niceness"/"romanticized" war stories and friendship as the lilacs and the three friends walking arm in arm so portrayed to me. Well I was hoodwinked! This story is a WWII story about women and it was VERY informative of a little place called Ravensbruck- largest concentration camp for women during WWII. Two of the main characters are present in this camp- one a polish girl and the other one of the only female German physicians at the camp. The last character never steps foot in the camp, but is an American who works at the French consulate. Their I'm really not going to say much because this book will suck you in and the stories of these three will unfold, weave together, and ultimately give the reader a picture of the horrors of WWII, the aftermath that I was somewhat oblivious to (What happened to people of Poland- mainly Polish women), and the way life and things like love, family, and friendship continue on during some of the most trying times in history.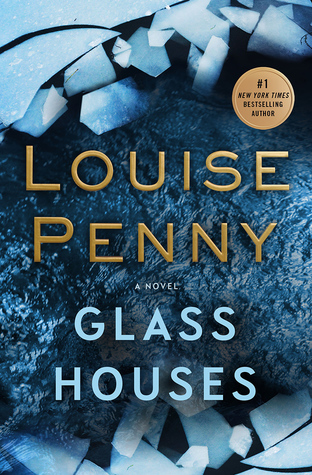 Glass Houses by Louise Penny
I was asked the other day if you could recommend an author to read who would it be. I answered, "Louise Penny". I LOVE her Armand Gamache series and this is the latest. I LOVE her books so much I pre-ordered this one to arrive to my door after it was released. I recommend reading this series in order- this is #13. Louise has an amazing way of writing a mystery that allows the reader to visualize or make the picture of the story as graphic as the reader wants. She doesn't give every detail of the atrocity committed. She writes just enough to let the reader take it from there and that is true writing genius. Don't get me wrong I enjoy a good old blood/guts murder mystery, but her mystery writing is really story writing with a little death, deception, and sin written in. Her characters are so believable. Her setting is so believable- it reads like creative nonfiction. You will want to go to "Three Pines" and meet the people who live in this fictitious community after reading just the first book. I again won't discuss the story line here, because that would just be giving it away. Instead I hope if you haven't read her Armand Gamache series this review pushes you to getting to the library, visiting your local bookstore, or going online and purchasing her first in the series "Still Life", and reading on from there- you won't be disappointed!