I LOVE this time of year. The holiday decorations up, the lights and warmth from trees and candles, plus the fireplace glow just makes such a cozy environment to read in. This past month I met my goal of 70 books "to read" in 2017 and I feel great about that. As always, though, I want to challenge myself more. I'm hoping to put on the docket for next year -100 books in 2018. We will see...
So in no particular order here are the reads for November.
The Queen of the Night by Alexander Chee
I picked up this book after getting to listen to the author receive the Paul Engle Prize Award winner for 2017. This award was given to Alexander Chee during the Iowa City Book Festival in October. The prize is given to those individuals who "represent a pioneering spirit in the world of literature through writing, editing publishing or teaching, and whose active participation in the larger issues of the day has contributed to the betterment of the world through the literary arts." (iowacityofliterautre.org)
This book is a historical novel about an opera singer. Lilliete Bernet is a famous Paris soprano opera singer. She is a Falcon. Falcon's are a type of opera singer is very rare and the definition I found is based on the original Falcon Cornelie Falcon who could sing a low A-flat to high D (2.5 octaves). As Chee describes throughout the book, a Falcon's singing life can be quite short lived if specific voice rest and training are not followed, for too much singing/strain the voice can be lost for ever.
So you would think that this is an opera book, but truly this book is an EPIC love story. I listened to this book on audio and I think I did Chee a diservice by "reading" this book in that form. It was too EPIC for me to keep track of characters, happening, and what year in the life of Lilliete I was in. The story spans years and the story has sub stories, sub plots, so many characters I felt like I needed a cheat sheet with characters names and their relation to Lilliete. I think if I could have read the book I would have been more present in my "reading". I gave this 3 stars. I plan to read his debut novel "Edinburgh". Pretty cool to here a author speak and read from his book and then go forward and read the book. Very lucky to live where I do and have such great access to the art and literature.
How To Think: A Survival Guide for a World at Odds by Alan Jacobs
This was my Blogging for Books (bloggingforbooks.com) read for the month. I have already written my review in past blog post. If you want the more detailed review I suggest you check that out. Overall I was disappointed and didn't find this book very "readable". I thought the writing was disjointed and I just didn't really get much insight from this read. 2 stars
Wishtree by Katherine Applegate
Katherine Applegate;s books one really can't go wrong for adults or kids reading pleasure. This was our Van Waning/Gutierrez Family read for Thanksgiving holiday. Grandma Sophie even got involved. It was a meaningful story about what community and neighborhoods are made of. What diversity can bring to a town/city/community- which is difference and learning. The main character is Red, the Oak Tree. Red is the wishtree. Every year people from the community tie their wishes to Red's branches. When a new family moves into town- across the street from Red- there are people who do not welcome this Muslim family. You could substitute Muslim for any ethnicity, race, or religious following that isn't the norm in our country. Katherine Applegate has a way of talking about tough subjects in ways that all can understand and she shows us what the obvious answer is to inability to accept those of difference- love and friendship. The animals who live in Red also have great voices and bring a lot to the story. We all liked the story. 4 Stars.
The Good Sister by Drusilla Campbell
This was our book club read for the month. I gave it 3 stars. It was great story line and a subject matter that I feel is important and could have more written about it: post partum depression, depression, and mental health issues that occur due to child hood adverse events. Why I didn't give this book more stars was I felt the writing could have been cleaner and more in depth. I really liked "the good sister", Roxanne, and felt her character could have had more "punch". Her sister, Simone, clearly was suffering from depression after so many babies (her husband wanted to keep trying until that 'boy'- UGH!). However, Simone, even as a child had developmental delay and learning difficulties which added to her being a "mess" of a mother.
This story also sheds light on how we can enable those we love. Roxanne did this all the time, throughout the book, and almost lost her marriage over it. I think this part of the book could have also been further developed. It was a good/easy read, but I just wanted more to the writing/reading experience.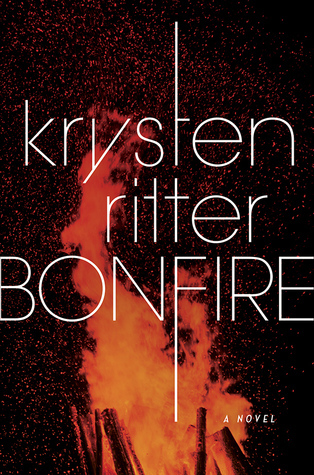 Bonfire by Krysten Ritter
This was a 5 start book for me. I read it very quickly due to wanting to know what was going to happen. I liked the story line, the main character- Abby Williams, and the writing was clean and believable. It reminded me of "Erin Brokovich" meets "Girl on the Train" or "Gone Girl"- accept not as heavy and twisted. I also kept on thinking of the term "mean girls" throughout the reading of the book. Why are girls so mean to other girls- especially in high school? Abby Williams has so much baggage from high school and she gets to reopen that suitcase when she returns to her town to investigate possible environmental illegality with the main company in town. She is no longer the awkward high school student, she is now a successful environmental protection lawyer. Her return to the town brings back a flood of memories and with it some current day revisiting of those people from her past. I also liked the backstory with her own father which was highlighted during the story. I was so engrossed with the story that I didn't even think twice about the author. The author is an actress and also is in a rock band. I think her acting experience may have given her some great writing skills on how to make the characters seem truly believable.
Side note- I really enjoyed this book and so pushed my husband into reading it. He didn't have the same reading experience. He thought the story line was too sophomoric and didn't intrigue him much at all. Just goes to show you we all can come out of a reading experience differently.
I Am The Messenger by Markus Zusak
This is a book I've been looking forward to reading for quite a while as I loved "The Book Thief" the author's first book. I gave this book 4 stars. The main character, Ed Kennedy, early in the book comes across as a "loser" He doesn't doesn't seem to have much focus, goals, or priorities in life. He is a taxi driver, barely making a living, who lives with a horribly smelly dog. He hangs out playing cards with this three friends. He is obsessed with the one friend and wants their friendship to be more, but never seems to have the gumption to go after that desire.
However, that changes after he stops a bank robbery. He then receives his first ace in the mail- yep a playing car- with a message. The message is an address. I thought the use of the playing cards with a street address was perfect for Ed's character, a taxi driver. Ed decides to see what the message on the cards entails and becomes the messenger. Her reminded me of a current day Robin Hood. He helps the needy, those in unsafe situations, and those who don't have much money. My biggest complaint with this book was I had a lot of unanswered questions even after finishing the book. This theme was supported by other readers I'm connected with. I think this is Markus' style. He likes to make you "think". I gave this book 4 stars. If you have to pick start with "The Book Thief" first and then try this one out.
Lab Girl by Hope Jahren
Another Audiobook for November. I thoroughly enjoyed this book. I gave it 4 stars. The book is mainly about Hope's building three labs in which she is head scientist and studies trees, flowers, seeds and nature's growing process. You think you are reading a book about plant life and growth, but it is filled with so much more: the hard work and hard life of a scientist, what happens when mental health issues and life mix, and the amazing relationship that is built with her lab partner Bill. I found this book entertaining, educational and at times gut wrenching. Real life stuff- real good stuff!