Last week I struggled to write about the Mommy's Project topic. This week I could probably write and post pictures until my "
style

" had changed, which would take awhile. I tend to lean towards the same
styles
over the years. So I will highlight below some different types of
styles
I enjoy or wish I had.
I in general like the clean/sporty look. I am not a big accessory person and would rather have or wear the same classic pieces of jewelry day in and day out (hence why my diamond studs get worn at least everyday). My favorite necklace is my Nashelle Initial necklace my mom purchased for me after I had my daughter. Here is an example of the necklace-
they have much more fun jewelry including a bracelet that would match this necklace (Mother's Day Present :). https://nashelle.com/
Here is another bracelet to go on my wish list: it is totally me and is a little eclectic, but I LOVE IT- another good Mommy's day Present :).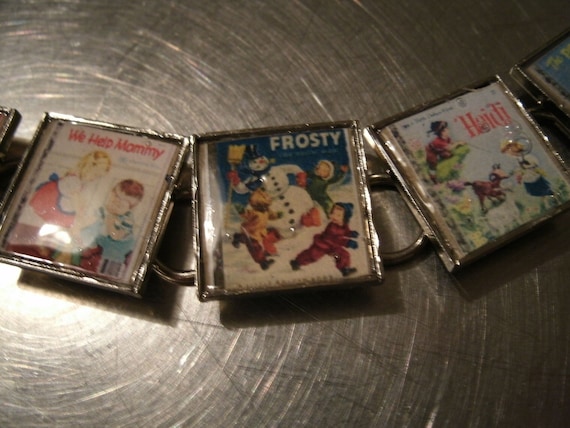 Yep- those are little Golden Books- you can request your favorite Golden Books. She also has Vintage Movie Bracelet, Vintage Children's books. You can find these great
Style
accessories at http://www.etsy.com/shop/southernheidibelle. We bought my mother in-law a vintage cookbook bracelet for her birthday- totally cute. O.k. here are some of my picks for my clothes
Style
.
First two picks are from Title Nine- great sporty/clean/casual
Style
.
These two are from Antrhopologie- These dresses are fun!
This is another show on my
Style
where I would like to be.
The last two shots are from Athleta another great sporty/clean
Style
. This last picture is a Natalie outfit. The only problem is I find outfits for work, sport, dress, casual and I don't follow through on purchasing. Another way I clip and file away in my dream file, but don't follow through. I need to follow through and show the Natalie
Style
I dream of.
O.K. on to hair. These are a few cuts I again LOVE. I don't always go out on a limb with my hair
style
but I think the short cut I have now is pretty
Stylish
if I only bought the product to help it look like the below
Styles.
Last but not least my house
style
.
The following pictures were taken from
http://hookedonhouses.net/
. I have forever loved houses, and interior design. Although, my own home, I feel is lacking the
style
I clip out of magazines and have highlighted below. I have definite dreams, and like I said I "clip" and have an idea book for our next home, which will be our "forever home". Some ideas are clipped from magazines/catalogs, however, now blogs and the internet give me even more access to what I'm interested in. For instance, my dream kitchen is seen in "real life" in the movie "Something's Gotta Give". The kitchen is in the Hampton Home of Erika (Dianne Keaton). I love the white cabinets, the cottage-clean look, and the dark floors with black counter tops. The only thing I think I'd do different is the light fixtures.
Here is her living room- LOVE the built in bookcases- again white.
Here is another view of the living room- cottage/clean- LOVE IT
Who knows if any of my
style
ideas will come to fruition, but I do love to "clip" and dream. It is definite way to keep those creativity vibes flowing. So one day maybe I'll move from my "clip-dream" book and actually figure out this pinterest thing. Again could write and write more about my
Style
but I'm already late on posting this week's Mommy's Project so I will call it good.